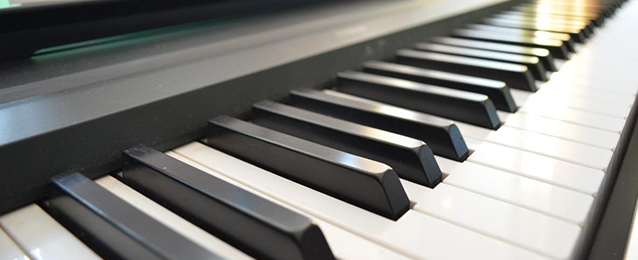 Learn Keyboard and Piano Online

Join Now
Our semi-western keyboard course includes the basics of the keyboard along with both hands technique like playing keys with left and right hand. With basic exercises and training, you will get to learn scales, chords with songs and beats with songs, piano rolling and piano with beats which will finally lead you to fully utilize the keyboard to play songs on keyboard confidently and correctly.
At Jugalbandi Studio Vasundhara, we strive to deliver the best with style. Keyboard Class is a more of an interactive class consisting of musical theory and the introduction of notations behind them. Our Keyboard teachers emphasizes on thorough grounding in Keyboard which inculcates better techniques, posture for playing, discipline and a base for music.
The Course structure is based on Western Music. Where you will be taught to play Western Music compositions. In our course, the Keyboard is typically taught on a Digital Keyboard and apart from learning the notes, you will be taught to create the Music digitally as well. It will include Indian and other music which can be played by listening and then memorizing the keys along with the notes.

With our Keyboard Classes, you will be able to:
Identify different keys on the Keyboard.
Identify different Chords.
Create & play different Piano Rollings & Piano Beats.
Play Keyboard with pre-recorded beats.
Identify different scales (Major & Minor)
Play Keybaord on Semi-Western themes.
Master the art of finger placement through notes exercises.
Play Keyboard (32-49 Keys) with both hands perfectly.
Play the basic tunes of selected songs.
Become musically ready for next level courses.
Get online learning resources like exercises, Tips, Videos etc. to help continue the fun at home!
Why Jugalbandi Studio Vasundhara?
We believe in exploring the talent of the every child based on interest.
We deliver One-to-One attention and guidance.
We share Progress Report with parents in the form of Audio & Video Clips.
We award certificates for the courses, competitions and Events.
We have an unrivalled track record in music.
We have trained teachers and working professionals.
We have High quality equipments, air condition classrooms with motivational, challenging, and fun atmosphere.
We provide opportunities for talent exposure and grooming sessions from time to time.
We provide free demo classes, so that you can experience the way we teach in our classrooms before paying for it.
---