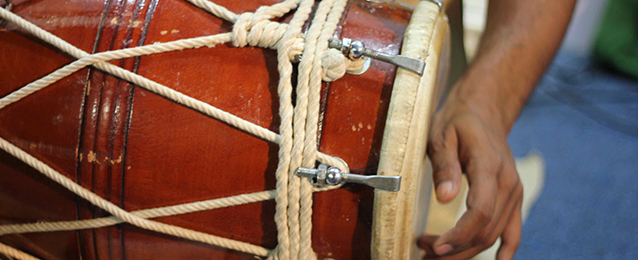 Online Dholak Classes

Join Now
Our Ladies music Dholak course include the basics of dholak including hand positioing, movements, strokes, beats and rythm. This course will enable you to prepare your self for any function like wedding or mandir events.
At Jugalbandi Studio Vasundhara, we strive to deliver the best with style. The dholak is a South Asian two-headed hand-drum. It may have traditional cotton rope lacing, screw-turnbuckle tensioning or both combined: in the first case steel rings are used for tuning or pegs are twisted inside the laces. The dholak is mainly a folk instrument, lacking the exact tuning and playing techniques of the tabla or the pakhawaj. The drum is pitched, depending on size, with an interval of perhaps a perfect fourth or perfect fifth between the two heads.It is related to the larger Punjabi dhol and the smaller dholki.
The dholki (Hindi/Urdu: pipe or tube) is often a bit narrower in diameter and uses tabla-style syahi masala on its treble skin. This instrument is also known as the naal. Its treble skin is stitched onto an iron ring, similarly to East Asian Janggu or Shime-daiko drums, which tenses the head before it is fitted.

With our Dholak Classes, you will be able to:
Learn the types and parts of a Dholak.
Learn dholak for Shaddi, Functions and Mandir.
Learn proper method and posture of playing a Dholak.
Learn the basic bols (beats) of a Dholak and how to make them.
Learn types of Ladies music on dhol.
Learn how to play the variation at a slow, moderate and fast pace.
Learn how to combine all lessons and play an Aartie.
Why Jugalbandi Studio Vasundhara?
We believe in exploring the talent of the every child based on interest.
We deliver One-to-One attention and guidance.
We share Progress Report with parents in the form of Audio & Video Clips.
We award certificates for the courses, competitions and Events.
We have an unrivalled track record in music.
We have trained teachers and working professionals.
We have High quality equipments, air condition classrooms with motivational, challenging, and fun atmosphere.
We provide opportunities for talent exposure and grooming sessions from time to time.
We provide free demo classes, so that you can experience the way we teach in our classrooms before paying for it.
---