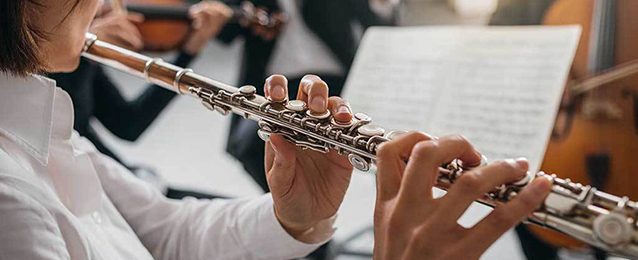 Online Flute Classes

Join Now
At Jugalbandi Studio Vasundhara, we strive to deliver the best with style. We teach the art and technique of playing the traditional classical Indian instrumental music form to the Flute students in a non-competitive, dedicated and disciplined manner through live, one-on-one, interactive online Flute lessons.
The flute is a family of musical instruments in the woodwind group. Unlike woodwind instruments with reeds, a flute is an aerophone or reedless wind instrument that produces its sound from the flow of air across an opening. According to the instrument classification of Hornbostel–Sachs, flutes are categorized as edge-blown aerophones. A musician who plays the flute can be referred to as a flute player, flautist, flutist or, less commonly, fluter or flutenist.
The Course structure is based on Folk Music. Where you will be taught to play Folk Music compositions. Dhol being a folk instrument has had no set methods and theory of teaching in the past. But here at Jugalbandi Studios, through its years of experience in Indian musical instruments and arts, has developed a systematic syllabus to train the students.

With our Folk Based FluteClasses, you will be able to:
Learn all the parts of the Flute, how to care for Flute.
Learn Diatonic and Chromatic Scales.
Learn Leads, Flat Notes, Vibrato.
Know the pressure required to get the sound
Get introduced background music and song compositions.
Learn music at one's own pace & convenient time schedules with the flexible music course duration programs, easily adjustable with the busy work schedules.
Learn different Swaras with respect to "Lower and Higher Octaves"
Play the basic scale of Indian Music and alankaars (progressions).
Play compositions (chant or bhajan) composed in different ragas.
Learn the concept of taals and play the compositions with a taal played on tabla.
Learn basic concepts, notation system, and historical background of Indian Music.
Become musically ready for next level courses.
Get online learning resources like exercises, Tips, Videos etc. to help continue the fun at home!
Why Jugalbandi Studio Vasundhara?
We believe in exploring the talent of the every child based on interest.
We deliver One-to-One attention and guidance.
We share Progress Report with parents in the form of Audio & Video Clips.
We award certificates for the courses, competitions and Events.
We have an unrivalled track record in music.
We have trained teachers and working professionals.
We have High quality equipments, air condition classrooms with motivational, challenging, and fun atmosphere.
We provide opportunities for talent exposure and grooming sessions from time to time.
We provide free demo classes, so that you can experience the way we teach in our classrooms before paying for it.
---