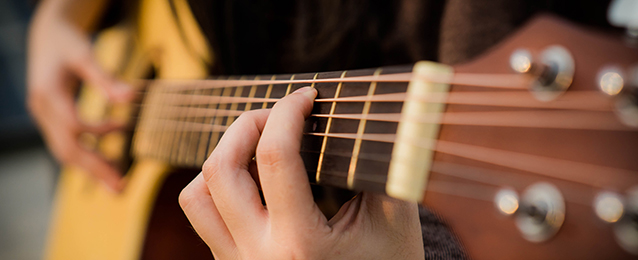 Learn Guitar Online

Join Now
At Jugalbandi Studio Vasundhara, we strive to deliver the best with style. To become a quality guitarist you need time and patience. Whatever comes with patience, practice and constant efforts are always great and everlasting. Our Guitar lessons, classes, programs & courses will help you bring out your hidden musical talents. Here, our Guitar lessons will help develop your guitar learning skills. Our trained guitar teachers will help you to learn guitar playing the right way.
The bass guitar is similar in appearance and construction to an electric guitar, but with a longer neck and scale length, and four to six strings or courses. The four-string bass, by far the most common, is usually tuned the same as the double bass, which corresponds to pitches one octave lower than the four lowest pitched strings of a guitar (E, A, D, and G). The bass guitar is a transposing instrument, as it is notated in bass clef an octave higher than it sounds. The electric bass guitar has pickups and needs to be connected to an amplifier and speaker, to make a sound loud enough to compete with other instruments.

With our Guitar Classes, you will be able to:
Learn all about the threads.
Play Guitar with drum beats.
Get introduction to Chords.
Learn Finger placement techniques.
Get introduction to Fingers, Frets, and Strings.
Learn the articulation variation.
Play popular songs on Guitar.
Learn to lock in with the drummer.
Learn to use the Octaves and Fifths.
Learn the single finger technique.
Learn basics of rhythm and notes.
Become musically ready for next level courses.
Get online learning resources like exercises, Tips, Videos etc. to help continue the fun at home!
Why Jugalbandi Studio Vasundhara?
We believe in exploring the talent of the every child based on interest.
We deliver One-to-One attention and guidance.
We share Progress Report with parents in the form of Audio & Video Clips.
We award certificates for the courses, competitions and Events.
We have an unrivalled track record in music.
We have trained teachers and working professionals.
We have High quality equipments, air condition classrooms with motivational, challenging, and fun atmosphere.
We provide opportunities for talent exposure and grooming sessions from time to time.
We provide free demo classes, so that you can experience the way we teach in our classrooms before paying for it.
---