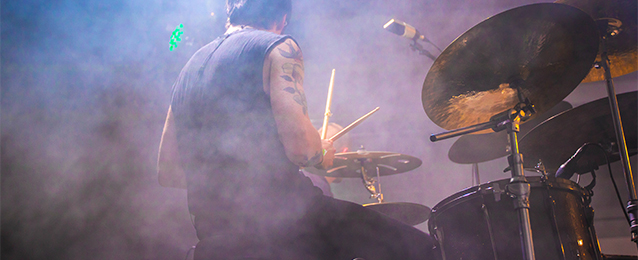 Online Drums Classes

Join Now
Our beat & roll drums course includes the basics of playing a drum like stick holding, foot techniques & body posture. You will be trained in paddle movement from both legs and in moving both hands-on the drums or on a drum pad. Further, you'll be introduced with the drum beats fundamentals and you will gain expertise in 4/4, 8/8 and 16 beats. Another important part of this course is to provide hands on experience on rolling with beats and fillers. Also, you'll get exposure on accompaniment with a singer or with some other instrument like tabla or a guitar with special notes on pace, sync and timings. Through this course, you can enable yourself to become an advanced-level drummer or even establish a music band.
At Jugalbandi Studio Vasundhara, we strive to deliver the best with style. Our drum lessons, classes, programs & courses will help you bring out your hidden musical talents. Here, you will receive Drum lessons that will help develop your drum learning skills. At Jugalbandi Studios Vasundhara, our trained drum teachers will help you to learn play the drums the right way. Our programs include drum lessons for kids / children and drum lessons for beginners. This also includes drum lessons for teenagers / youth and drum lessons for adults. Join us to learn to play drums the right way.
The Course structure is based on Western Music. Where you will be taught to play Western Music compositions. The drum is a member of the percussion group of musical instruments. Drums may be played individually, with the player using a single drum, and some drums such as the djembe are almost always played in this way. Others are normally played in a set of two or more, all played by the one player, such as bongo drums and timpani. A number of different drums together with cymbals form the basic modern drum kit.

With our Drums Classes, you will be able to:
Rock and pop drumming according to the course provided by Trinity rock.
Play solo Drums and playing with Brushes.
Learns basic beats (3/4, 3/2, 4/4, 16).
Learn how To hold Drumsticks and tune your Drums.
Learn Drum Rolls and Rock Drumming Beats.
Proper posture and Cross sticking technique.
Become musically ready for next level courses.
Get online learning resources like exercises, Tips, Videos etc. to help continue the fun at home!
Why Jugalbandi Studio Vasundhara?
We believe in exploring the talent of the every child based on interest.
We deliver One-to-One attention and guidance.
We share Progress Report with parents in the form of Audio & Video Clips.
We award certificates for the courses, competitions and Events.
We have an unrivalled track record in music.
We have trained teachers and working professionals.
We have High quality equipments, air condition classrooms with motivational, challenging, and fun atmosphere.
We provide opportunities for talent exposure and grooming sessions from time to time.
We provide free demo classes, so that you can experience the way we teach in our classrooms before paying for it.
---